YÄCHTLEY CRËW
AND WAYWARD SONS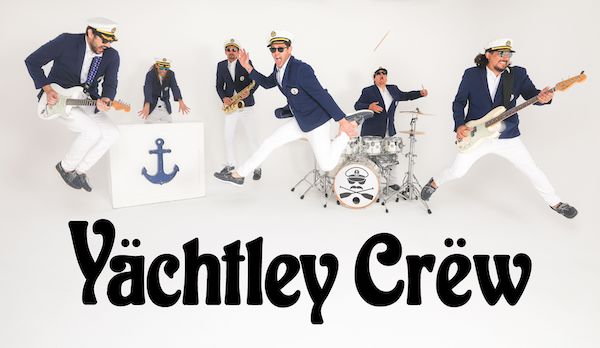 Important Info
This is a Burbank City sponsored event.
All parking $10 – CASH ONLY
City Concert Series
Seating Chart
Parking
YÄCHTLEY CRËW
For those unfamiliar with the concept, 'Yacht Rock' is a fairly recently coined term for the revival of the soft rock and power ballad hits of the late 70s to the early 80s. And while yes, a lot of it is overwrought story-driven narrative, the music itself is still a guilty pleasure to listen to, watch and sing along!
Although just about everyone appreciates how ridiculous it is to sing along at the top of your lungs to "Brandy", "Africa" or "Escape (The Piña Colada Song)", it is a perfect example of the rediscovery of this era in music.
WAYWARD SONS
Wayward Sons is a nostalgia-fueled, power chord-packed rock show featuring the greatest songs of the '80s including hits from Journey, Queen, Bon Jovi, Styx, Def Leppard and Guns N Roses. This LA based band have become the reigning kings of the Sunset Strip and regularly headline legendary Southern California rock venues such as The Viper Room, The Belly Up and many others. This tailor-made rock & roll concert is choreographed and arranged by seasoned musicians and singers who hit all the right notes, transporting audiences back to the area-rock favorites that defined a generation. 
You will not only be entertained. You will dance and you will sing along! Monster guitar riffs, face-melting solos, lighter-igniting ballads, heart-pounding rhythms, searing vocals, skin-clinging spandex, pure raunchy rock & roll euphoria resplendent with flowing locks of hair and genuine fake English accents. 
When Wayward Sons hit the stage, it's an arena rock party that will blow your socks off, every night!